This is how we do it!
This is important. It tells you, what you are going to get.
Learn more about the technology we use for our projects.
The most important aspect first: You do not have to know about the next things. If you don't care, that is fine. Some people do want to know, though what we use. That is, why we make it public here.
In this vast amount of possibilities of available technology to choose from, we do not limit ourself. But we also gained a lot of experience with a certain set of tools and software.
The more you know about a certain piece of software, the better you can make use of it. That is, why we usually refer to the same tools, depending on the client's need.
If we figure, the software at hand is not the right fit for you, for whatever reason, we will evaluate other, probably better options and go with the one with the highest potential.
We do favour open source projects over proprietary closed business software. We have a very good overview of what is available on the market and evaluate the right fit for you.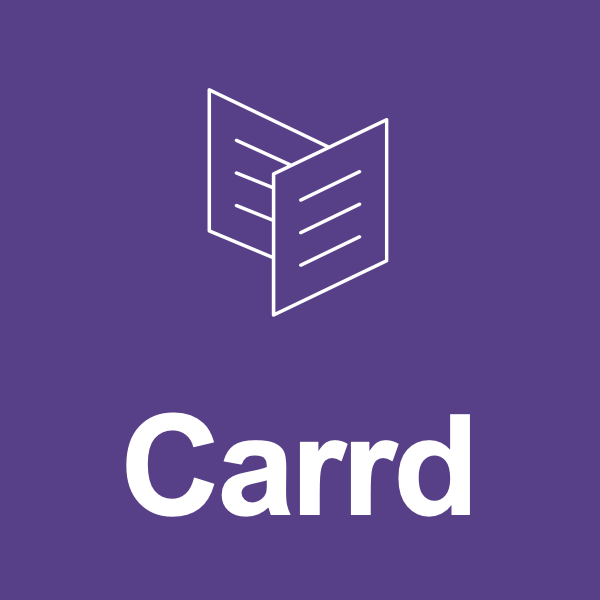 The usage of carrd is pretty simple and straightforward. There is a set of elements to choose from. You can build your design in a few easy steps. You can only create single page websites, though. There is a way to have navigation, but it basically just swaps content-containers.
Great for landing pages, online business-cards and link-collections. Also useful for a form-entry site. If your budget in time/money is limited, this is a good start.
The ever famous
wordpress
WordPress is the ca-do-everything CMS. It allows you to build simple websites easily, but it also able to sport a highly customised membership website for protected content or create a multilingual website with user-generated content.
You can even build a full-blown mailing system into WordPress, if you want so. The powerful plugin system makes it so versatile, as there is virtually everything available.
The one reason though it is so powerful: It is very easy to use, has an excellent documentation on how to use it and allows for easy adoption for web-publishing beginners.

Ghost is a bit special in its target audience. If you solely looking for a perfect and fast website to publish content on, this is your best deal. It focuses on writers and publishers, allows easy monetisation of your audience and does not get in the way. It is beautiful, fast, easy to setup and becomes ever more powerful over time.
Ghost was created as an open-source non-profit foundation that builds and improves ghost. So they share a lot of common values with us at xumana.
full-blown marketing
systeme
If you really want to go into marketing, then this tool is for you. It combines all six tools, required to do proper online marketing under one hood (for a good price, too). It is a Sales Funnels, Email Marketing, Online Courses, Website Builder
Affiliate Program Management and Marketing Automations Tool.
One of the main advantages this tool has it combines data from all sub-systems into other, so you can focus on your content and offers for the market. It gets out of the way as best as possible and enables you to start your online-business in a short amount of time.

For bigger projects
For custom development we refer to full-blown application development frameworks, in order to serve your needs individually and create a perfect environment for you.
Laravel
We also do custom development on the basis of laravel. This is a PHP Framework, which allows us to completely and independently of any structure create the right web application just for you. It can be literally anything. We start from scratch and build, whatever you want/need in a framework, that is industry standard.
CraftCMS
If we think a custom made content-management just for you makes sense, we also consider using Craft CMS. It is also a popular and powerful CMS but needs a bit more setup work. This could be helpful if a lot of different people work with your website and you want to streamline their experience.

Important message
Whatever it is, we use for your project, we ensure that you are able to work with this on your own.
It is our intention to enable you to publish yourself and be independent. It should not be mandatory to need our help.
If you wish to have our support, we have your back, though.
Do I need to know about this?
Here is a little FAQ about the technology we are using.
Do I need to know about <x>?
Well, the thing is this. If we build a website for you; it should be yours in the end. If you buy a car, you are the one who is going to drive it.
That's why it actually matters, what piece of software we are using. The good thing is: You have choice. There is plenty of options to choose from. The burden of narrowing the choices down to the selected few, that fits you is something we take care of (if you want it, though).
We will give you anyway options to choose from and explain the advantages and caveats. We want you to be happy and feel good with your new website. So you can manage it on your own.
Please get in touch or schedule a free call so we can discuss everything. It's free!
I have no clue. Can you make it just work?
Yes. Definitely.
We can take as much of the hassle, as possible. In the end, we need to ask you a few questions, though. But we can guide you through that easily. It will be fun, you'll see.
And we help you grow into your website and software, if you want it so. If not, we'll take care. Both options are just fine.
XS
---
for starters
Sometimes it needs to be done, quick. This is for you. No fuzz, no bullshit. Just pure focus on what needs to be online. Now.
Usually ready within 3 days.
Includes a landing page, colors and typography.
890.- USD
S
---
set a foundation
This is a basic, yet custom website. We do have a WordPress CMS ready for you. It is setup and configured according to your needs. If you do not have a brand identity, we will create something for you, that serves as a basis.
Includes a WordPress website & basic brand identity.
2.900.- USD
M
---
fully-featured
We already know what you want/need. This is a full-blown WordPress website with a booking system or contact-form included.
Includes full brand identity, with unique claim, colors, logo, typography, visual moods and of course a fully designed website.
4.600.- USD
L
---
build big
Are we still talking WordPress? If you need something bigger, with more horsepower and a complex workflow, this one is for you.
Includes a paid membership website, including custom branded mailing system.
>= 6.000.- USD
Maintenance
---
taking care of operations
We know how this works. As we progress, we need to change things a bit. We need to update a certain part or add a new service, a product, this little something it needs. The picture needs to be swapped, there is additional content...
Also: Your server and the installed software needs attention: security updates, backups, checking logs for hackers... Think of this like taking care of a pet. We can do that for you.
6 months of support, services, administration and maintenance.
890.- USD
All prices exclude taxes. Prices are discounted packages, additional conditions apply.
You can always work with us on an hourly rate.
Final note
Thank you very much for reading this far. We hope, we could convey what we do, why we do it and most importantly how we do it.
We would be very happy to support you on your ideas, projects and business. Please say hello, or schedule a free call, so we can discuss our potential. There is no cost involved – just a pure encounter of human beings, trying to see where there is a connection.