Our portfolio of projects
Other creators, founders and businesses trust xumana. So you are in a good company. Please find below wonderful people, companies and founders who we partnered with.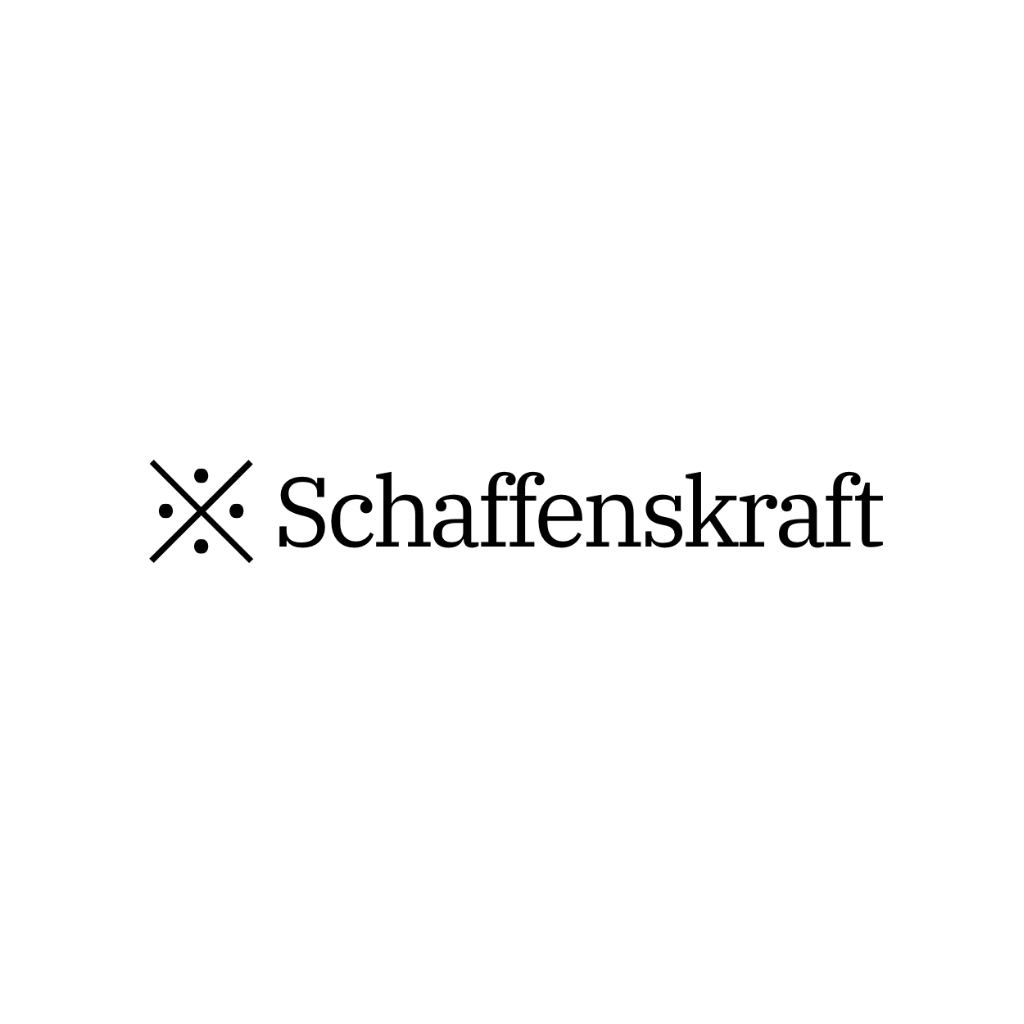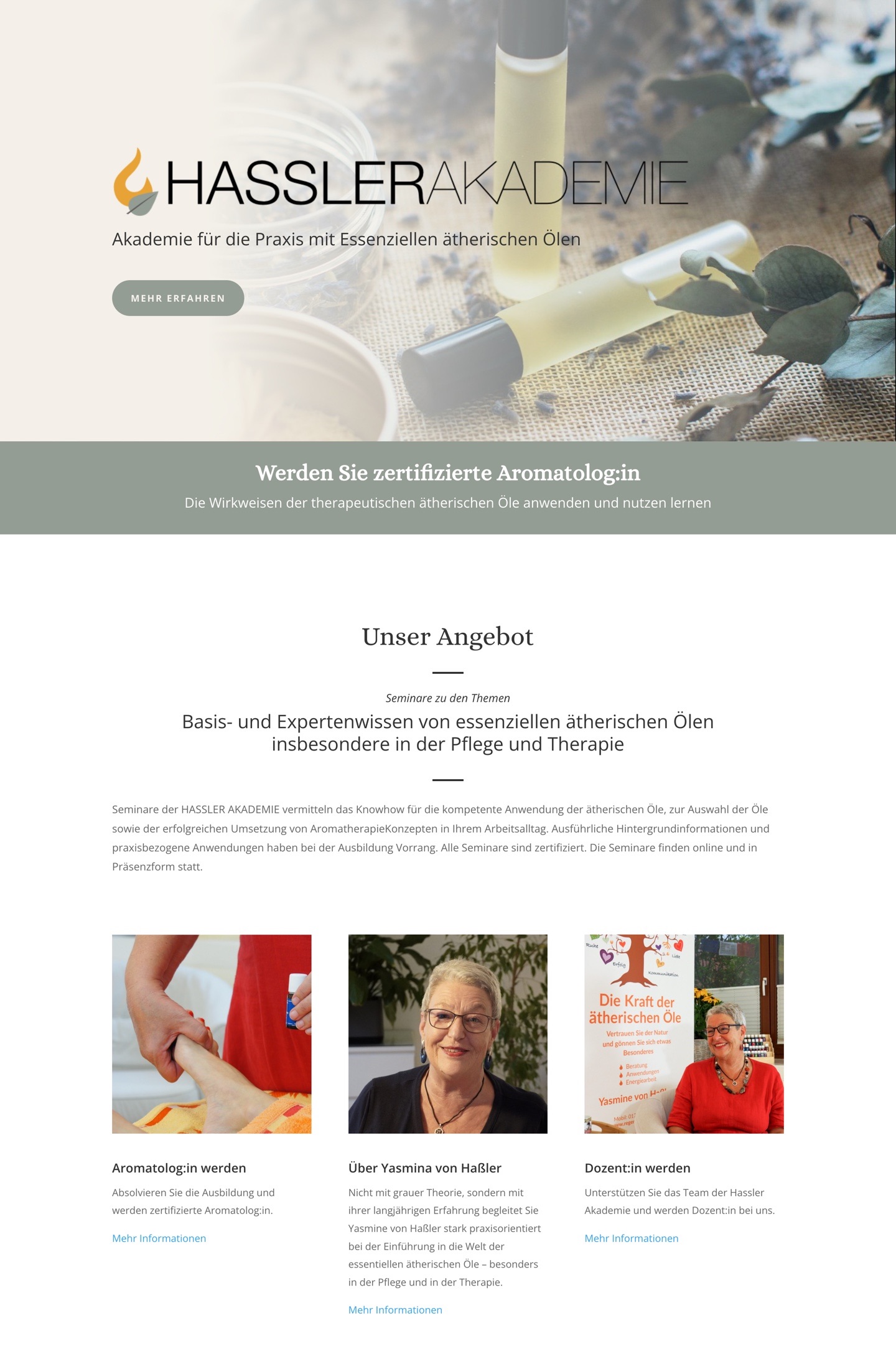 Consulting, Brand & Website
Hassler Akademie
When Yasmina approached us with the idea to create a certified system to teach and train people for the benefits on how to use essential oils, we were immediately inspired.
Not only do we use essential oils for ourself, we know how valuable it is, to get a proper training on how to use them.
We started with typography and colors. Then worked on the identity for the logo. The logo resembles an essential oil drop and a leaf, to showcase the plant it came from.
After we had this together we registered a domain-name and setup up a quick landing-page, that could be used to generate some leads.
Just a few days later, we created a proper website using WordPress, which took us only 4 days, including writing text and content, design and development.

Consulting & Website
Pranarei
The fine folks over at Pranarei are very special to us. Not only are the two one of the nicest, shiniest people on this planet, they also are co-founders to our Schaffenskraft Association. And best friends.
Their mission is to help other people grow and let their energy flow. The website had to contain a variety of different aspects of their work. This includes yoga, photography services, consulting and custom building of objects.
The WordPress websites also has a fully integrated membership section, where members can access certain yoga courses, they paid for.
Each course contains different content elements, that are scheduled to appear for their members. The website updates itself and the content becomes accessible.
Later, the website has been translated from German to English. Some of the photos are taken by us. Which is even more special, because Simon is our photographer for everything.
Almost every picture you see on one of our websites are made by Simon Graf. He is a visual talent we highly recommend to work with.
The Websites design has been heavily influenced by his work and style. Typography, colours and imagery were his picks. So it could be deemed as a collaboration project. We are proud to be part of it, anyway.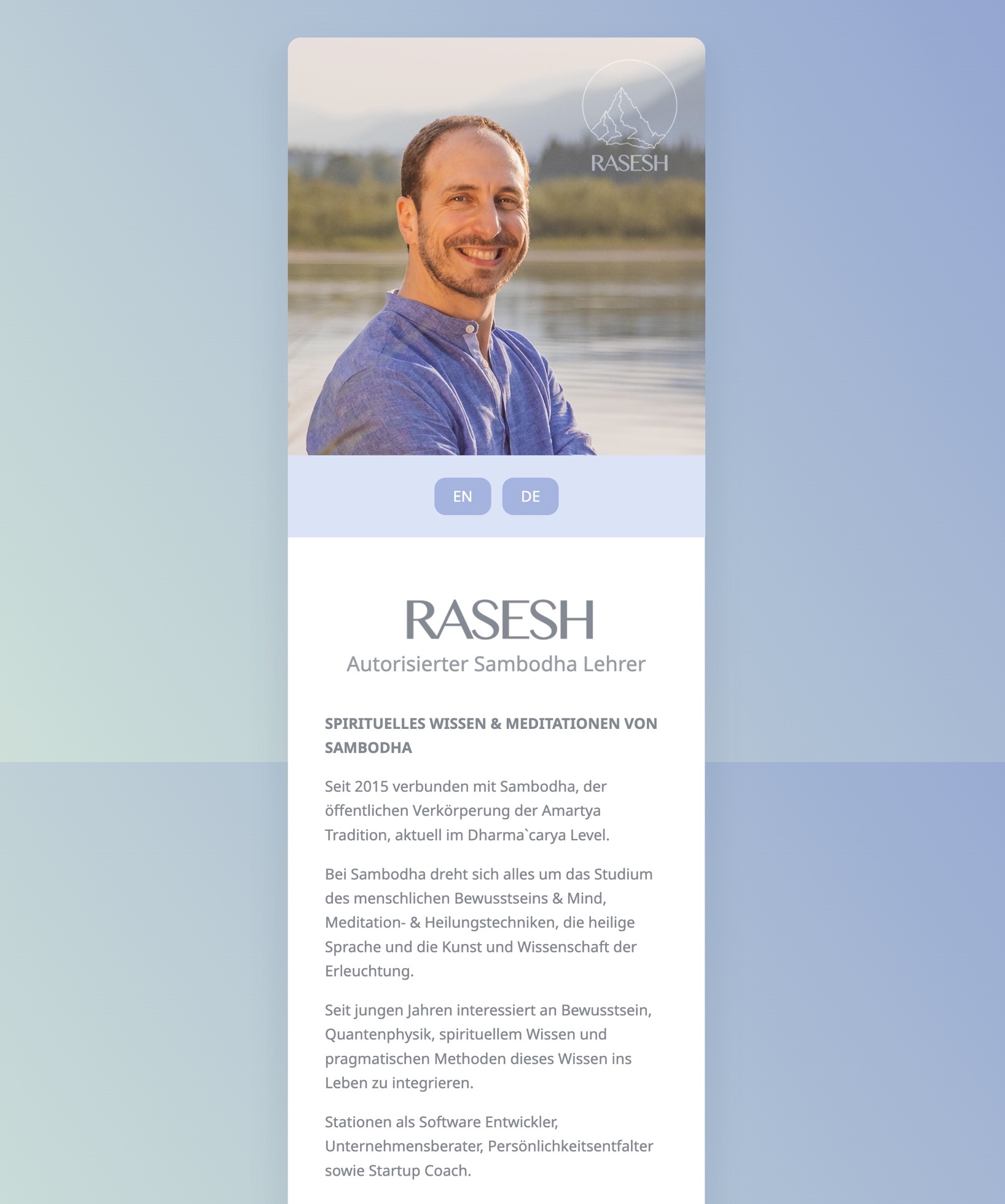 Website & Brand
Rasesh
The website of Rasesh, who works as a meditation teacher is very simple and small.
Because there is not much content, it is very narrow, so the reader can easily follow along.
The visitor can switch between German and English at the very top, the content will then replace with the language accordingly, without a reload of the page.
The full grading, including colours, typography and logo was created within 2 days.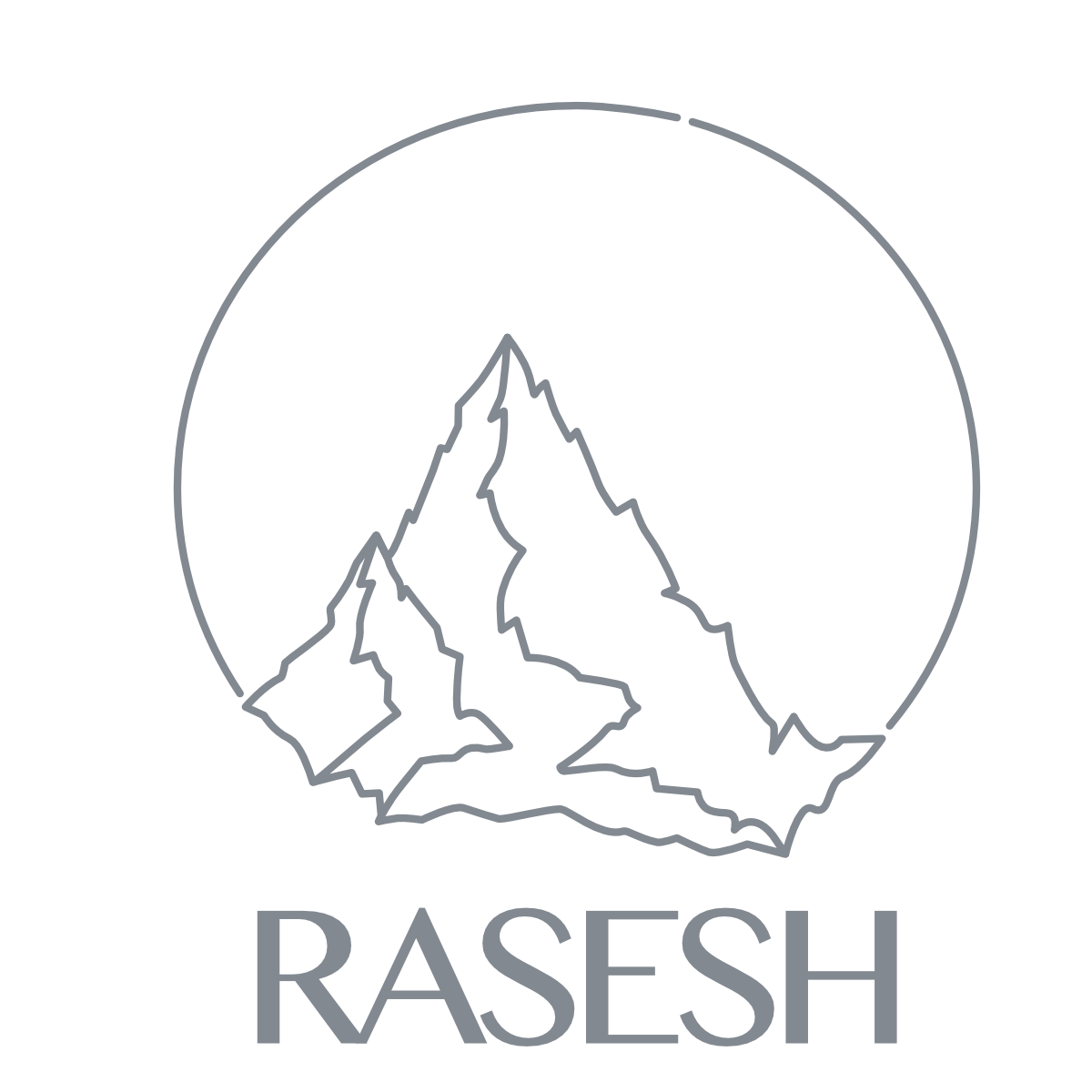 Brand & Website
Freie Seelen
The fellowshop of "Freie Seelen", or Glaubensgemeinschaft der freien Seelen n.e.V. is a community of like-minded people who believe every human being is a free and open soul.
One of the founders approached us to ask, if we could help with their website. It should allow visitors to sign-up with a paid membership.
The full process can be done classical with a pdf-download and send back of a filled out form or directly online, including payment of the fee via PayPal or credit-card.
The members can then access a member-only area. All of the content can be edited via WordPress. All members can be managed with a CRM, for easy administration.

Consulting, BRANDING & Website

The BERNSTEINKRAFT Association is our mothership.
We are co-founders of this, as we try to bring forward healing to this world, through digital leadership and spiritual guidance. To quote directly:
"BERNSTEIN is a mineral, that is known for its healing energy.

BERNSTEINKRAFT is a local word for electricity, used in Iceland.

We combine these two things: We work in digital fields, with a focus on people and companies who bring healing to this world and its inhabitants."
The website is focused on its content and nothing distract from reading. That is, why we kept the visual complexity low. It is our desire to have the visitor scroll through this page and read it from top to bottom.
Usually, the people reading this website are already in touch with us. So there is no need for special marketing kung-fu.
We used WordPress, as foundation, for easier interaction between our other websites.
Complete branding is from us, except the imagery.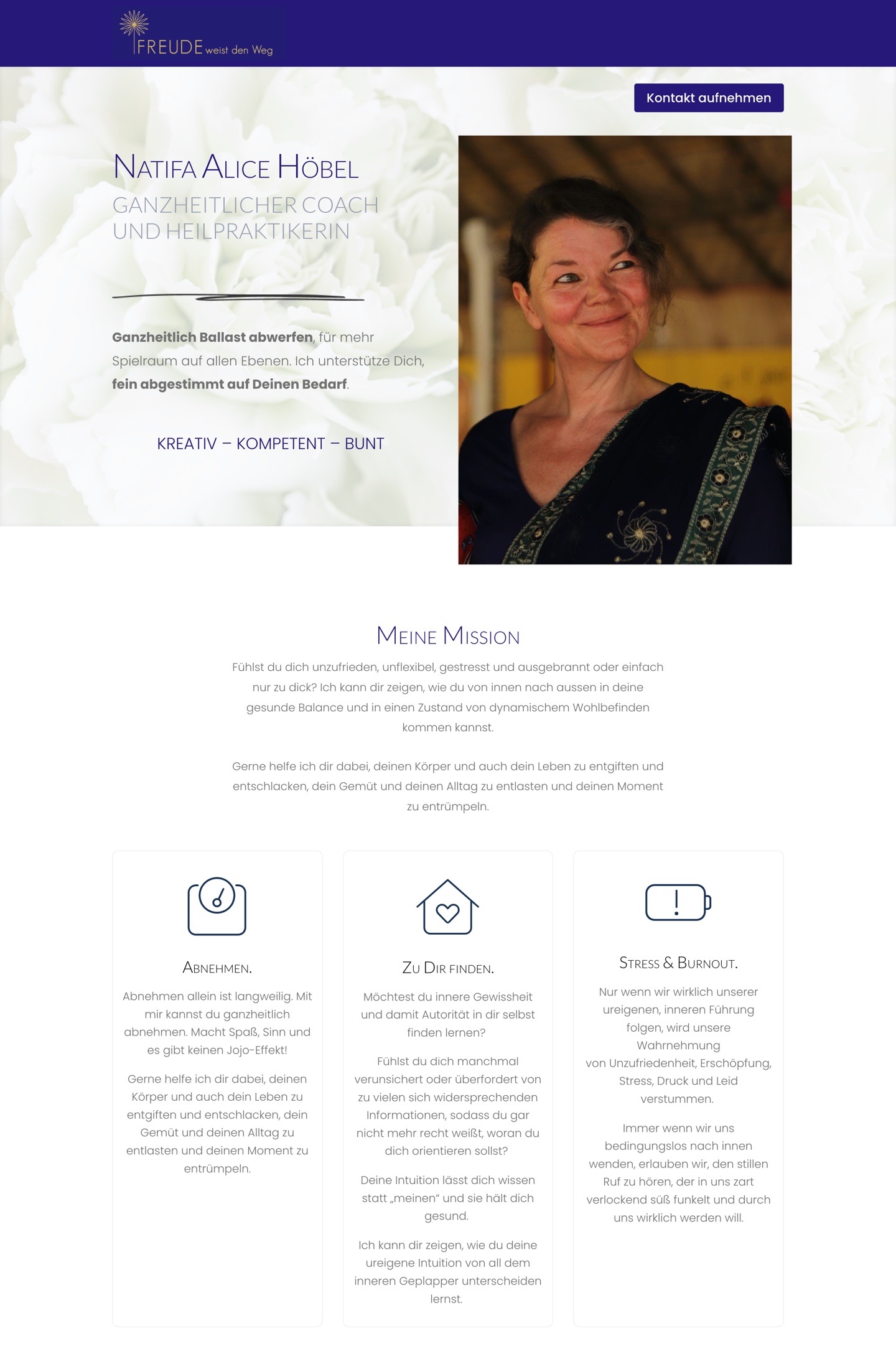 Consulting & Website
Natifa Alice Höbel
Natifa is a wonderful holistic mentor and meditation teacher. She helps other people holistically to shed ballast to create more space on all levels. She supports, finely tuned to one's needs and is dedicated and focused.
She also has a large portfolio of services to offer, both on- and offline. So the challenge here was to create a single website that represents all of her offerings.
She had a short consulting phase in the beginning and was able to work on her own, answering all the questions and coming up with good solutions and ideas to build and refine a brand.
The logo was sketched by us, but continued on by another designer.
Colours, brand identity as well as image-selection was on our shoulders. The website is built using WordPress and most of the elements are custom tailored to Natifa's unique needs.
Consulting, Branding & Website
Dirk Brünsicke
This is me. It is the website I created to showcase my work as coach, consultant and trainer. The branding comes from us, as well as all the content.
The website is not yet finished, but it will soon go online. Please check it out and find more offers from 50% of xumana on how to get coached, consulted and have a training.